How To Make a Professional Tech Pack on Your Own
A tech pack is vital to production, and while it's always a good idea to have a technical designer assist you on one, here are some ways you can make your own.
Bringing design ideas to life takes time and effort. As a fashion designer, you would spend hours creating design concepts by collecting inspirations, building mood-boards and hand drawn sketches. But when it comes to getting those ideas translated into actual garments, your factory would require much more than just that creative set of info. 
To develop a sample or manufacture a style, factories need to know every detail about your design so they can ensure garment accuracy.  Which is why they expect designers to provide professional tech pack.
A tech pack is a design specification document that details all-important aspects of the design requirements and lays it out in an easy to read format. A designer can get very detailed with their tech pack, but it should at least cover the below set of information to pass as a "professional tech pack." 
Sketch & Description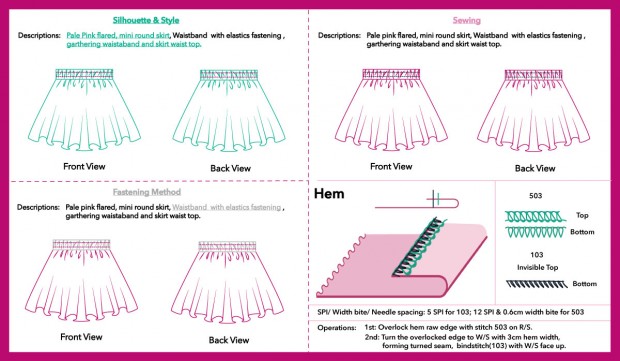 Above all, a tech pack is an instrument to express your design concepts and requirements. Nothing is better than visual language. So include as many detailed sketches of your design in a tech pack. It's not important how brilliantly you illustrate your sketches. What's important is if your sketches neatly reflect the desired apparel outcome with design and construction details.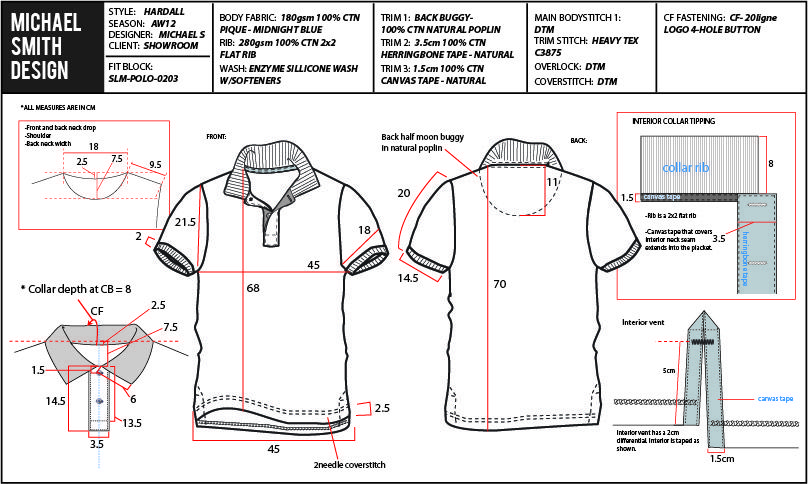 Flat is a term used for the type of sketches (usually created on Adobe Illustrator) that shows how the garment will look if laid out on a flat surface. Together through these relevant images and added descriptions, your factories can effectively shape your ideas into an actual garment. 
Now let's go over some important types of flats that you should include –
a. Silhouette and style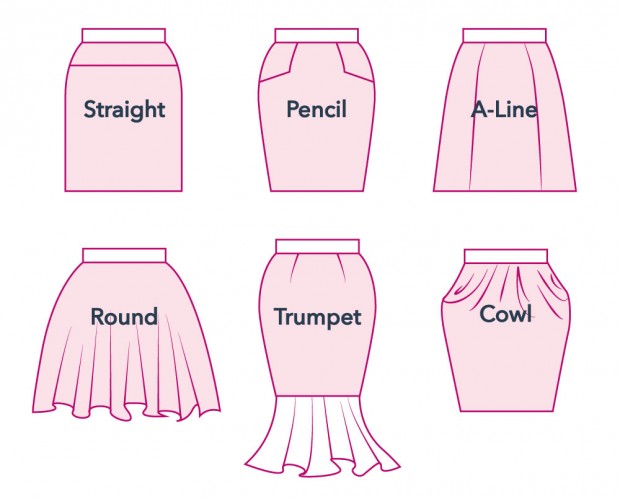 Silhouette usually refers to the length, width, and shape of how a garment would sit on the body of its wearer like semi-fitted, box, A-line etc. The first step is to provide a sketch of your garment outline in a flat form, both with front and back views. You can also include pocket and collar sketches with details, depending on your styling complexities. Color, printing, and embroideries should also be described thoroughly.
If the details are too fine to present on a miniature, then you can explain them separately, but ensure that they are precise and easily understood.
b. Fastening methods
Although buttons and zippers contribute to the aesthetic of a design, their primary role is still fasteners. Sometimes designers may freely draw high neckline top without any fasteners. This would result in ill-fitted samples. Unless you are aiming designing T-shirt or swimwear, do not forget to illustrate the fasteners for your designs.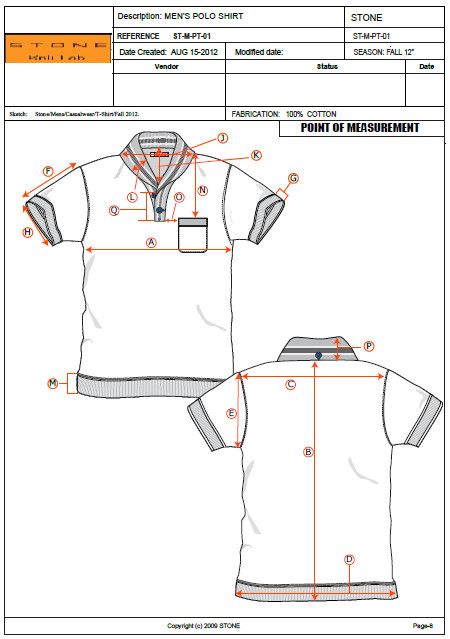 c. Construction Diagrams
A trouser can't be presumed as fitted if the crotch seam is missing from your sketch. It is important to illustrate both seam lines and stitch lines. There are a plenty of possible seams and stitching combinations. Don't leave too much room for the factories to guess your choice of construction. Thorough sewing explanations may test your patience, but they'll surely help avoid bad samples and time wastage.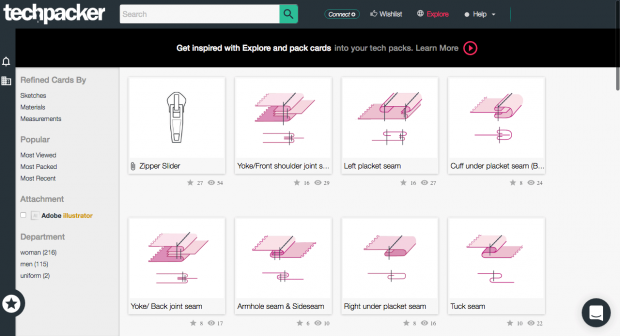 Materials aka BOM
After your design sketches and descriptions are in place, next in the order of your tech pack is materials. Bill of Material(BOM) represents all the hardware that you will need to make a complete garment, inside and out.
These materials are mainly fabrics (for shell, lining, rib, pocket bag or interlining), fasteners, threads, and of course label and care tags. You can also include your packaging material details if that too you are sourcing from your factory.
In a tech pack, it is important to clearly specify your materials requirement and placement. You might find it messy to jam all the info within a page, but you can always use lines and callouts on the images to keep them neat and organized.
Size & Measurements
Once material information is clearly stated, up next is the most technical part of your tech pack – the measurements. If not properly specified, this can be the detrimental part of your design's fit outcome.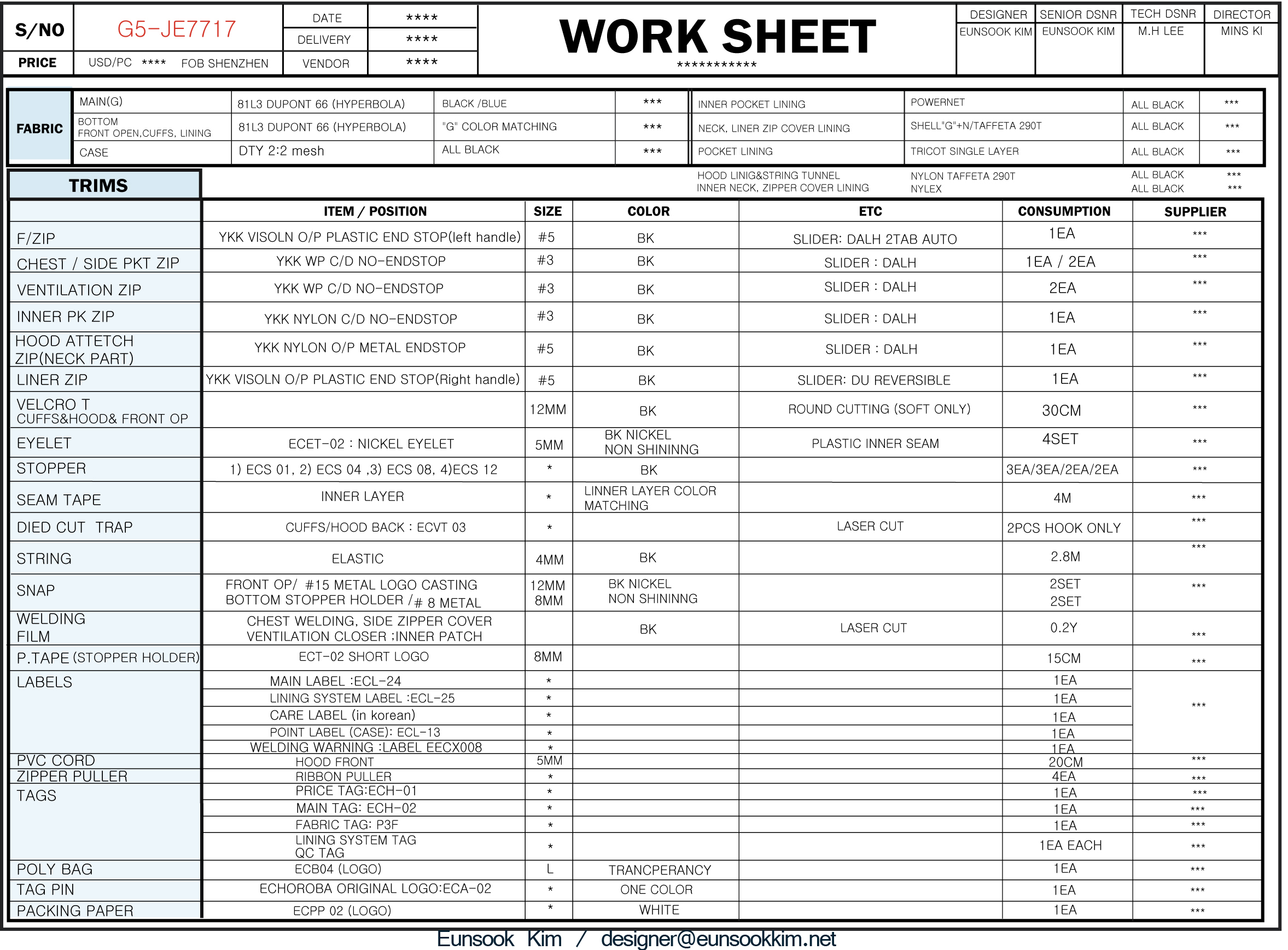 First, it is important to determine your master size, or the sample size, e.g. Medium. And then you decide the complete size range you would like to offer in that style (for e.g. XS, S, M, L, XL etc.). Also remember, the more intricate your design, the more point of measurements (POM) you would have to mention in your tech pack. So once you have your size ranges together, the final step is grading. Grading is the measurement differences between every size of your style. And you calculate it from your master size. For e.g. If your Medium sized sample has a chest width say 15 inches, then the different (in inches) you would want in your large size (say +1 or +2) is the grading that would have to provide for each POM and all size ranges. 
Resource corner:  If in case you mean to find out how a professional technical designer would write their measurement spec, check out this article
Creating vs Managing Techpacks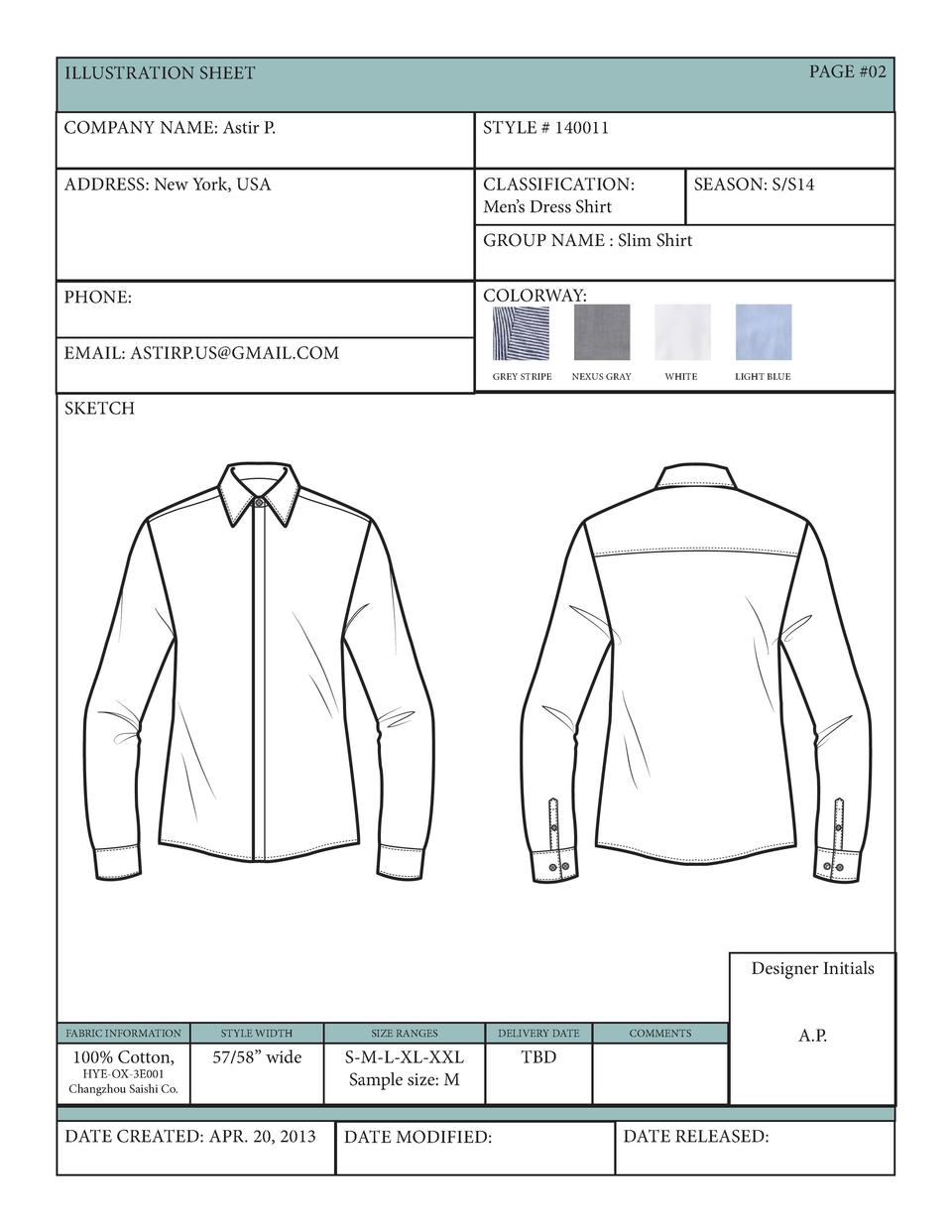 If you have already added all the above info into your documentation, the good news is that you've got yourself a professional tech pack. But remember, you only have one tech pack, what about the other styles of your collection that are lined up?
Besides product development is an ongoing process so you and your team (In case you work for a brand) would have to collaborate and update changes on each tech pack until your factory finally sends you the "perfect sample". Managing all this data and communications will sure be a challenge.
Is there a simpler way?
Usually, designers use programs like Excel and Illustrator to create tech packs. These are great tools for making tech packs but not necessarily the most efficient ones when it comes to regularly updating them and for team collaborations.
Why do I need a tech pack?
Here are 7 major benefits that shows you why techpacks are a must-have to create any fashion product.
1. Get error-free samples
Your techpack should tell your pattern marker or factory how to create your sample and what to include in it. The more detailed the better. Do not take anything for granted. Do not leave anything to chance. A comprehensive and easy to read techpack increases the chance for your sample to match your original vision at first go.
2. Get accurate price quotations
The more detailed your tech pack is, the easier it will be for your factory to gauge how much time it will take to make your product and thus, how much it will cost.
In other words, the more accurate your tech pack is, the more accurate the price estimation you'll receive.
3. It keeps your manufacturer accountable
Once production is ready to start, your tech pack becomes a reference de facto contract between you and your manufacturer. For instance, in case your factory switches materials or trims and produces something that doesn't confirm to your instructions, you can always refer back to the tech pack to point out the mistakes and indicate how to correct them.
4. It's a reference point for quality control
Your techpack is your master document used during your QA process. For every round of samples, you have to check its points of measurements against the tolerances you've put in your techpack. If one deviates out of your tolerance range, you'll have to tell your manufacturer and request the necessary changes. You'll also have to check the labels, constructions, materials, seams etc.
5. It tracks change requests
Chances are, no matter how accurate your tech pack is, your perfect sample will take more than one round to complete. During fit sample reviews, you'll have to request changes to your manufacturer. You'll have to keep track of what was done and what has to be done. All these changes have to be archived and organized inside different versions of your techpack.
6. It saves you time and money
Creating a complete tech pack requires some time and effort. An investment that is totally worth it when you consider how much time, money and headaches this will save you down the line. This includes wastes on wrong samples, development costs, and sample logistics. Each step of the product creation process has pitfalls that are easily avoidable by having a detailed techpack to refer back to and that tracks everything.
7. It helps you collaborate in teams
Your techpack can unite different roles within your supply chain. It can be transformed from a mere document to a collaborative environment where designers, product developers, buyers and quality control planners work together to create better products faster. For instance, a designer might not know the exact measurements for a skirt, but can only estimate where it will reach the leg and then convey it in the techpack. This scenario can apply to a number things that are crucial to the final design such as pockets trim details and finishing details. With this techpack acting as a go-between, the pattern maker could then fill in the gap and provide more accurate measurements.
SOURCES: